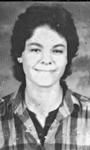 The haunting case of Shondra May is one that I, like so many others around here, would love to see solved.
According to Shondra's brother, Tim, February 4, 1986, was a cool rainy day, and after nightfall, on a rural dirt road in Scott County, Mississippi, three small footprints were found in the mud, outside 17 year old Shondra May's

1985 Isuzu I-Mark

car, and then, after the last step, the footprints, like her, just vanished. She was abducted 75 yards from her home. Her car door was left standing ajar, and the only thing missing was her drivers license.
After 22 days of frantic waiting, on February, 26, 1986, Shondra's 18th birthday, h
er naked, raped, strangled, lifeless body, bound with packing tape (possibly the kind used in chicken houses) was found wrapped in black, plastic garbage bags,
floating in Baker Creek, near Bolton, Mississippi, by an off
duty fireman. The fireman was paid a $5,000.00 reward for finding Shondra, and while according to the law, he did nothing wrong by accepting the award, my conscience says he should have said. "No thanks." He happened to find her on her birthday, and her drivers license was missing. Since he would have possessed a red light because he was an off duty fireman, I would not discount him as a suspect either.
To this day, the date of death on her tombstone remains blank. Authorities could not determine the exact time she was murdered, because her body was in the water for 3-5 days, and they believe she was murdered before being placed there, however, they believe she may have lived for around 17 days after her disappearance.
The last time Shondra was seen alive, was after she left her job at the local McDonald's, and went by the TG&Y store to buy an over sized Valentines Day Card. The police found a time dated receipt for the card, but as far as I can determine, they did not find the card.
Someone claiming (and verified on websleuth's) to be
Shondra's
brother, Tim, believes that she knew her killer or killers, that they knew where she lived, and that it was a cold, calculated murder.
One of the suspects, is a brother to
a former school mate of Shondra's. She suspects her brother, may have been involved in Shondra's murder, but because of family issues, some have discounted what she has to say.
W**** remembers Shondra as being a good student, a hard worker, and recounts how in the 5th and 6th grades they hung out. "I had a rough childhood", says W****, "but Shondra seemed to come from a good home, and wasn't into drugs or anything. Her and her brother Tim were both real sweet."
"I remember the day she disappeared, me, Terri Sanders, and Christy Sanders were driving up to the school and parking in front of the gym, and coach Wolverton, wearing a school jacket, came out and said, "Shondra May did not come home last night." "I was like, "OMG, what happened?"
Before Shondra died, I remember sitting at the table with my brother, and he said, "What about Shondra May?" He was talking about girls to go out with, and I was probably talking about guys, and I was like, "She is not going out with you.", and he said, "Why not?" I said, "Look at you, your disgusting!" "That probably rubbed him the wrong way", she says, cause he was around 18 and had never had a girlfriend."
"I was a teenager then, but bits and pieces have come back to me as an adult, that I find odd. For instance, one day I walked into my mother's house and she was scrubbing everything in sight, including the phone, and the baseboards (that was abnormal for her), and my mother said to me, "If a girl got raped, it was her fault for doing what she was doing."
W**** also recalls another instance about that time, when her brother and some friends invited her over to their house. Her brother had a friend whose father worked as a supervisor for the county. W**** says they took her outside, and showed her a van that was parked in their yard, and told her that the van had caught on fire, and she looked inside and saw that there had been a fire in it."
The van belonged to my brother's friend, but it was in his parent's name. (There was mention of a van in Shondra's disappearance, but nothing came of it)
"My brother use to choke me too. The last time was about 14 years ago. D**** had seen police investigator, JR Blackburn's, vehicle in my grandmother's driveway, and he stopped, and wanted to know what his car had been doing there."
"I told him, I had this guy I was dating investigated, but that he was cleared, and my brother was standing all cocky, and he said, "They are never going to find out what happened to her." He said it three or four times.
I was making Lilly pads, and putting a white flower, with a yellow center, and a frog on the pads. I needed something out of the kitchen, and my brother grabbed me, slammed me up against the wall, and he was choking me and saying,"They are never going to find out what happened to her.", and I and I said, "OK, OK,(brother's name), they are never going to find out.", and once I said that, he let me go."
"Now I just believe he was the one that did it, says W****, and they said who ever killed her bit her, and that they had big teeth, and if you look at one of his high school pictures, you can see, he has big teeth."
W****'s brother D****, agreed to a polygraph test, but when it came time to take the test, he requested a lawyer.
He was not the only suspect, and as time goes on, I will be giving more and more details on the case and the other suspects.
What would possess a 17 year old girl, to abandon her car in the middle of the night, and take only her drivers license, and leave her door ajar?
There was an arrest made around this time, in Meridian, Mississippi, of the nicknamed, "Blue-Light Killer", Larry Fisher, but it could not have been him, because he was in jail at the time. However, a copy cat killer, or someone impersonating an officer could have pulled her over, prompting her to leave all of her belongings in her car, except for her Drivers License, which she would take to be called in by the officer.
It would not have necessarily had to be a police officer, it could have been anyone with a red light or a blue light, and someone that age would likely pull over.
Since there did not appear to be, from what I have seen, any other footprints, it would suggest that she willingly walked from her car, and stepped into another.
If it was not someone impersonating an officer, what other reason could she possibly have for leaving her car with her license and stepping into another car?
Several possible scenario's come to mind. The first is that someone she knew pulled up beside her, and she wanted to show them the card she bought for her boyfriend, which signifies friendship. (why else was the card not found?) It would be unlikely it was her boyfriend, because it was not yet Valentines Day.
The second scenario that comes to mind is she was meeting someone, maybe going out to a club (I don't know at this point if her license had been altered), and it was possibly raining so she left the car door open.
However, the car door being left open probably signifies that she had ever intention of getting back into her car.
The possibility also exist that the license was simply in her back pocket, and that she may have written a check to pay for the card or stopped to get gas, and needed her ID for the purchase. I often take only what I need to make a purchase, and will put my DL in my back pocket.
The most significant thing to me is the card.
Unfortunately,because the body was not properly handled at the crime scene, much valuable evidence could have been lost, but there is DNA evidence from one person, so there is hope.
Suspect Number Two
B**** T***** could be a suspect according to G. E. , a Railroad worker.
"B**** T***** worked for MDOT , drove a van, and was all over the place. We would be working, and he would show up out of no where, walking down the tracks."
"He was short, heavy set, pigeon toed, knocked kneed, and weird as a drunk duck. He probably never had a date in his life," says E.
"My father thinks the police checked him out, and said he was strange, but probably harmless."
"The thing is,the killer is thought to have been familiar with the Baker Creek area, and B**** lived with his mother in Bolton, and was fascinated with the railroad. The railroad tracks go over East and West Baker Creek, where Shondra's body was found, and West of Bolton before you get to Edwards."
"I really just think he is someone they need to take a closer look at."
Many people believe that there was a cover up in this crime, and it has been insinuated that the Sheriff who first investigated it, was corrupt, along with several other county officials.
The Baker Creek/Champion Hill location, in Bolton, is a very isolated area in Western Hinds county, outside of Jackson, Mississippi, and Shondra's body is not the only one that has been found there.
Law enforcement's profile of the killer, put him as being white, and possibly in his late 20's.
W****'s brother would have been in his early 20's, and is NOT the only suspect, and should be considered innocent until proven otherwise. I am currently working on a profile of the others. Some have been cleared, or like her brother, there has simply not been enough evidence to charge them.

William Kenneth McLain, is not only a suspect in Shondra's case, but several others as well. Two murders in Alabama and one in Mississippi.


PLEASE KEEP IN MIND THAT ALL SUSPECTS DESERVE THE BENEFIT OF A DOUBT, AND D**** IS NOT THE ONLY COMPELLING SUSPECT IN THIS CASE.
IF YOU HAVE ANY INFORMATION ON THIS CASE, PLEASE CONTACT THE SHERIFF'S DEPARTMENT IN SCOTT COUNTY, AND OF COURSE, I WILL BE HAPPY TO SPEAK WITH YOU ALSO.
IF REQUESTED, ALL SOURCES OF INFORMATION WILL BE KEPT CONFIDENTIAL. I can be reached at 601-616-9409
Updates will be coming soon!